Tuesday, 7 February 2023, 1:51 AM
Course:
WNC Learning Hub (WNC_Hub)
Glossary:
Hair and Beauty Glossary
C
Chair
Clip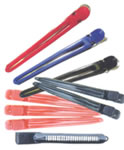 A device for holding the hair in sections.


Comb
A device used for disentangling hair. Usually flat with pointed teeth on one edge.

Conditioner
A product that makes hair soft, rebuilds hair, closes down cuticles.

Cortex
A hair layer under cuticle has pigment and bonds.

Cuticle
The outside layer of hair overlap like tiles on a roof.

Cutting
The act of shortening by chopping off the ends. An activity often carried out with scissors.